Some may think that a 40 minute commute is outrageously long, but for me it's very doable, especially when I have my go to radio stations to get me through the construction zones, unnecessary traffic jams, and days when I hit every.single.red light.
My morning station has always been and will continue to be Kiss 108 (technically 107.9). It's THE station to listen to for pop music and has a huge following thanks to the hilarity that is the "Matty in the Morning" show. This AM talk show keeps me fully entertained every morning without fail.
The afternoon commute is a toss-up for me. Talk shows are few and far between and I just want to zone out after a long day of work. Today I bounced around and landed on Magic 106.7, which mixes the latest pop hits with anthems from the 80's and 90's and 00's.
Here was the truly magical (see what I did there!) line-up on today's commute home:
Wilson Phillips, "Hold On", released in 1990
Pink, "One Last Kiss", released in 2012
The Outfields, "Your Love", released in 1985
Vanessa Carlton, "A Thousand Miles", released in 2001
Rihanna, "Only Girl", released in 2010
Rachel Platten, "Fight Song", released in 2015
With such a stellar line up you can't blame me for rocking out in my car. This is what I am SURE I looked like: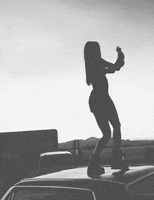 What fellow cars must have witnessed (given the looks I got):
One thing is for sure – music can make or break your commute. Oh, and haters gonna hate. You just shake, shake, shake it off!
-Alice